Our Services

At Immaculate Healthcare Services, Incorporated, we encourage our patients and their families to participate in the care programs which they will be recipients of. For many years, it is clear that the direct participation and encouragement of family members can help improve the patient's conditions. It is in the emotional support that patients receive from those who surround them that pushes them to get better - one day at a time.
On our end, Immaculate Healthcare Services, Incorporated ensures the smooth flow of patient care as we also collaborate with medical professionals in the over-all improvement of the patient's health. We innovate, develop and maintain quality standards in the implementation of care solutions.
These are the services currently available at our agency:
Immaculate Healthcare Services, Incorporated offers immediate nursing coverage for:
Medicaid
Medicare
DDS (Department of Disability Services)
Private Duty
Private Insurance
Major Hospitals
Nursing Homes
Psychiatric Centers
Rehabilitation Centers
Home Care
If you are looking for services no listed above, please give our agency a call - 202-832-8340. There may be other home health care options available for you. It will be a pleasure for us to hear from you and respond to your inquiries.
Member of:
Contact Information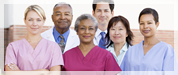 2512 24 Street N.E.
Washington, DC 20018

Phone: 202-832-8340
Rosemarie Sesay, RN
President
Mr. Kenneth Osuji
Vice-President
Winstina Taylor, RN
Quality Assurance Manager