Speech Language Pathology

There are times when we have trouble expressing ourselves. However, what we feel when we are lost for words cannot be compared to what the speech and hearing impaired feel about their disability.
Because of this, we feel that it is our professional obligation to help restore dignity to those who have communication impediments. We hope to achieve this through Speech Language Pathology.
At Immaculate Healthcare Services, Incorporated, our Speech Language Pathology program includes:
Evaluation of Sensory Skills (Auditory and Speech)
Assessment of Comprehension Skills
Evaluation of Communication and Cognitive Skills
Aural Rehabilitation
Dysphasia Treatment
Speech Articulation Exercises
Swallowing Exercises
Voice Delay/Disorder Treatment
Member of:
Contact Information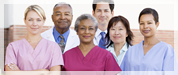 2512 24 Street N.E.
Washington, DC 20018

Phone: 202-832-8340
Rosemarie Sesay, RN
President
Mr. Kenneth Osuji
Vice-President
Winstina Taylor, RN
Quality Assurance Manager