Respite Services

Sometimes, we feel stressed from taking care of a sick or disable loved one. It's normal. When you put so much effort into caring for someone you love, you're bound to get exhausted. It's noble to volunteer and be the caregiver but like every human being, we all need to rest.
You need to regain your strength so that when you return to caregiving duties, you are fully alert and capable of providing the care your loved one deserves. While you take your rest, it's best to look into the availability of Respite Care Services.
Respite Care Services are designed for temporary care services. Our home health professionals will take over your duties while you're away from home. Your loved one will be given quality care and attention. Schedules and rates can vary:
Daily
Overnight
Over the Weekend
Weekly
Hourly
Please call us for more information about Respite Care. You can reach Immaculate Healthcare Services, Incorporated at 202-832-8340.
Member of:
Contact Information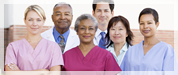 2512 24 Street N.E.
Washington, DC 20018

Phone: 202-832-8340
Rosemarie Sesay, RN
President
Mr. Kenneth Osuji
Vice-President
Winstina Taylor, RN
Quality Assurance Manager