Homemaker Services

The homemakers at Immaculate Healthcare Services, Incorporated will be assigned with tasks such as:
Laundry Services
Dropping off and picking up the dry cleaning
Planning and Preparing Meals
Running Errands
Taking out the garbage
Changing linens

Dusting furniture
Grocery Shopping
Ironing
Keeping inventory of Household supplies
Making beds
Organizing closets
These tasks are essential in managing your home. We believe that when a home is well-organized, family members have better quality of living. They can enjoy each other's company in a clean and tidy environment. It also promotes better health.
Member of:
Contact Information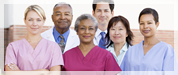 2512 24 Street N.E.
Washington, DC 20018

Phone: 202-832-8340
Rosemarie Sesay, RN
President
Mr. Kenneth Osuji
Vice-President
Winstina Taylor, RN
Quality Assurance Manager